Your Safety Should Always Come First When Sugar Daddy Dating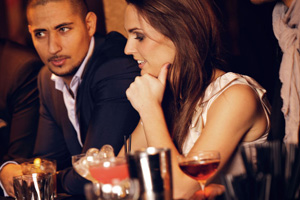 Sugar daddy dating is
safe and rewarding
. Smart sugar babies know that safety is the #1 rule in any situation.
Tell a friend where you are at all times.
There's one person in your life that you can trust with your lifestyle, and that person should always know where you are when you're sugar daddy dating. You don't have to give them a play-by-play, but there are ways to make sure you can always be located in case of emergency. Here are some tips:
Sugar Baby Dating Safety Tips
Check Into Hotels Under Your Name
When you're on a mini trip with your sugar daddy, and you're staying in a hotel, put the room under your name, or ask him to
book a separate room for you
so that you can put your name on that one. Once you're checked in, send that info to your friend. Ensure your sugar daddy that you trust him, but your #1 rule is to make sure that someone knows where you are at all times. You can pre-arrange this when you first set up the
terms of your arrangement
. No sugar daddy should try and convince you otherwise.
If he's worried about his privacy, use an alias, but tell your friend what that alias is.
Have An Emergency Plan
It's always good to be prepared for the worst. It won't happen, but in case it does, you should
always have a way out
. That goes for any situation, but especially if you're traveling somewhere out of the city or country with your sugar daddy. You just want to make sure that you are protected in case your SD ends up being different than you imagined, or their wife comes looking for them. Keeping yourself out of harms way at all times should be a given.
Consider Bringing A Friend
Your sugar daddy can afford it
, and maybe you will feel safer if you can bring a friend along for the fun. Book a separate room where you and your friend can stay, and when you feel comfortable, you can bounce back and forth from friend to lover. Tell your sugar daddy that those are your terms, and he'll likely be more than compliant. Your sugar daddy should always be understanding when it comes to you and your safety. Never feel shy about asking for things that make you feel comfortable and secure.Your safety should always come first, and if you ever feel like you're not safe, then you need to re-evaluate your situation. Sugar babies have great success when they set themselves up for it, and safety is a very important part of the process. From your first encounter with your sugar daddy, safety should be the next topic you discuss other than your allowance.
Your safety is #1, and the sugar daddies you'll meet here will always put you and your safety first. Spoiling you and making sure you have what you need is their only concern.